A HOLISTIC COMPLEX
THAT TARGETS 5 CORNERSTONES OF WELLNESS
BREAKTHROUGH INNOVATION
An unparalleled core complex that targets deeply at a cellular level that is the breakthrough innovation at the heart of each Clinique La Prairie Holistic supplements.
Building on 90 years of research and clinical practice, our team of Life Science experts has identified 5 fundamental pillars of balanced holistic wellness - IMMUNITY, NEUROMODULATION (stress management), ANTI-INFLAMMATION, REJUVENATION and CELLULAR LONGEVITY – connecting the most powerful bioactive compounds to target them in a proprietary formula.
Harnessing the latest micronutrition technologies, the result is a fusion of 5 potent ingredients balanced with targeted active naturals in well-defined quantities that connect the 5 pillars as closely as scientifically possible.
FIVE POWERFUL BIOACTIVES
FOR A BREAKTHROUGH CORE COMPLEX
Immunity: Immuno-protection, balance of inflammation and regulation of biological function.
Antioxidation and Anti-Inflammation: Anti-inflammatory responses and shielding from environmental and lifestyle aggressors.
Neuromodulation: Stress reactivity, mood balance and cognitive performance.
Cellular Longevity (anti-aging action): Sustained cellular health that promotes healthy aging.
Rejuvenation: Restoratative process of metabolic pathaway, homeostatis, resilence and reverting cellular decline
DELIVERING THE ULTIMATE IN NUTRACEUTICALS, EACH OF OUR VEGAN FORMULAS FEATURE THE EXCLUSIVE HOLISTIC COMPLEX PAIRED WITH SYNERGISTIC INGREDIENTS CAREFULLY SELECTED AND DOSED TO EMPOWER YOUR BODY AND MIND.
THE FIVE BIOACTIVES OF THE COMPLEX: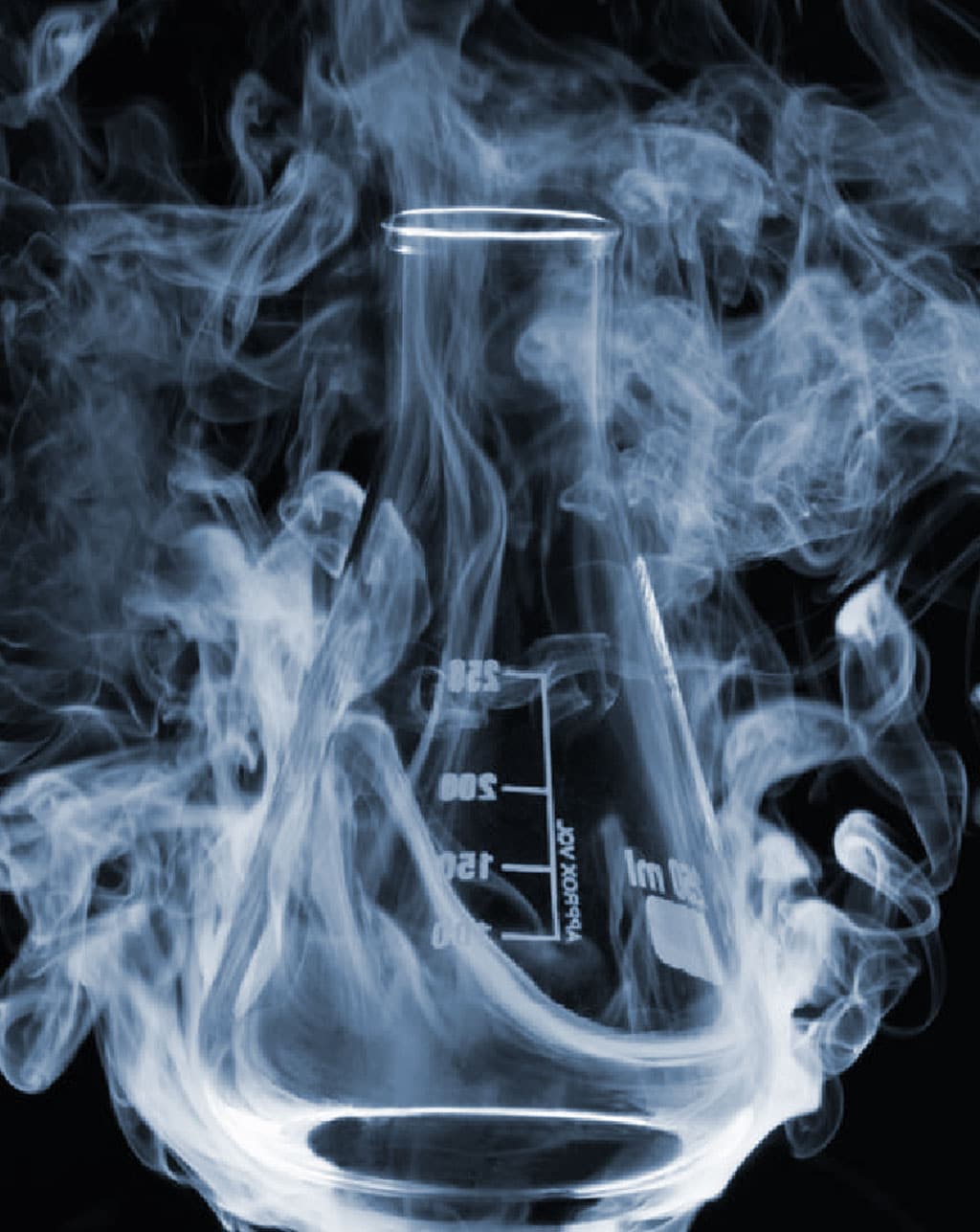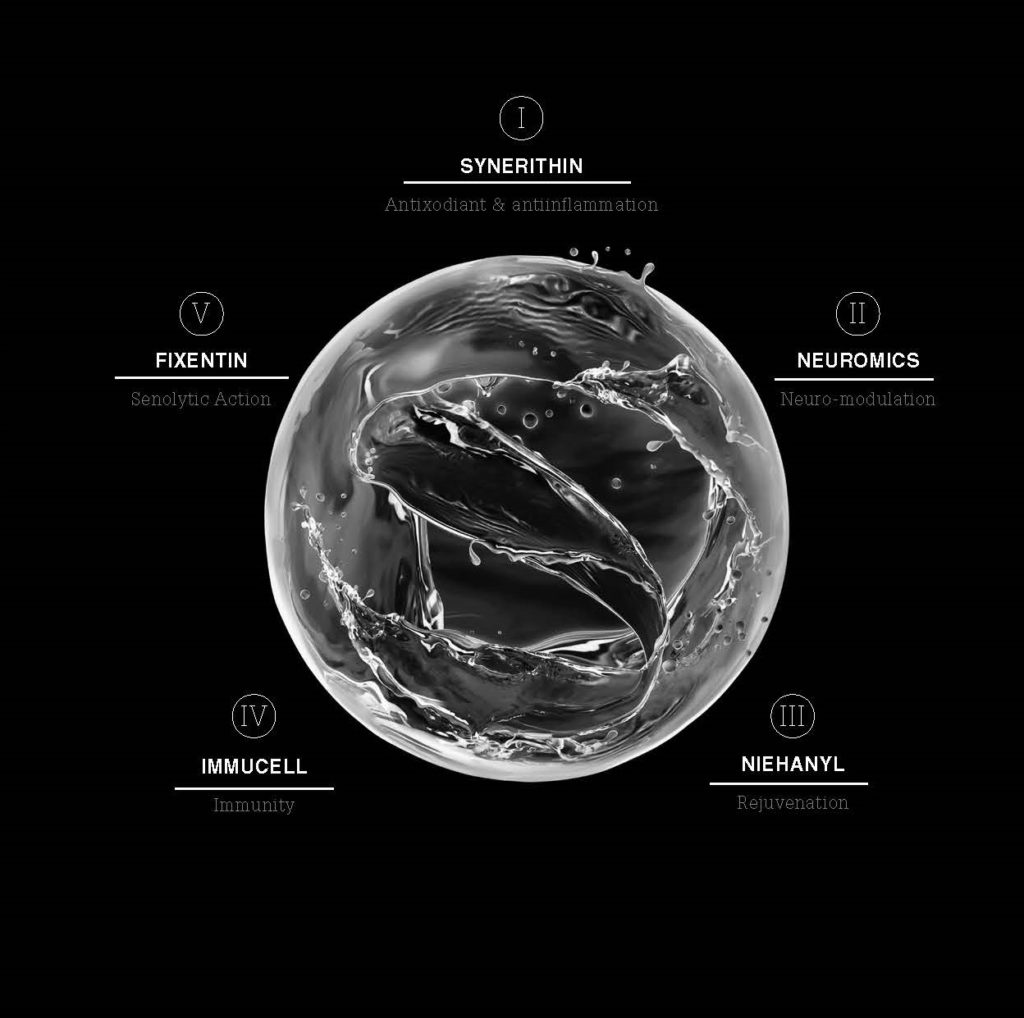 NEUROMICS
Known to support stress reactivity, mood balance and cognitive performance. A unique non-protein amino acid originating from green tea leaves (Camellia Sinensis) containing L-theanine. Studies have revealed it as a phytochemical with neuroprotective and cognitive-enhancing properties shown to help regulate the release of Cortisol, the stress hormone.
SYNERITHIN
Helps boost anti-inflammatory responses and shield from environmental and lifestyle aggressors. Unlike other antioxidants, this compound helps neutralize free radical impact on the inner and outer layers of cell membranes, boosting the activity of essential enzymes superoxide dismutase and catalase, which help moderate inflammatory responses that can lead to premature aging.
FIXENTIN
A powerful antioxidant, known to support the reduction of inflammation and contribute to cellular health and healthy aging. This bioactive flavanol molecule is found in fruits and vegetables such as apple, persimmon, grape, cucumber and especially strawberries, which are known to contain the highest concentration. It also helps slow cellular senescence.
IMMUCELL
A rich source of β-glucans which have a prebiotic effect to support healthy gut activity. Immucell extract also acts to balance inflammation and regulate biological function. Derived from Shiitake mushrooms this polysaccharide is a soluble source of fiber, to be transformed in protective metabolites.
NIEHANYL
Known as a rejuvenating, stress-relieving and multi-purpose compound that supports the body's balance, promotes longevity and increases energy. Made of Ashwagandha root, this leading adaptogen has anti-inflammatory compounds known to help regulate biological stress reactivity and support the body's natural balance.
THE 4 COMMITMENTS OF OUR FORMULATIONS
CLEAN
We are – Responsible
Our plant-based formulations are developed with utmost respect for the body and environment. Non-GMO, vegan friendly, free from artificial colors, sweeteners and preservatives, titanium dioxide free.
EFFICIENCY
We are – Focused
Our formulations are developed with a uniquely targeted approach to enable active solutions and conditions to achieve maximum benefits. Using the latest longevity technologies, every single ingredient and compound technique amplifies efficacy.
SCIENCE-BACKED
We are – Pioneers
Our heritage of over 90 years in-clinic treatments combined with the expertise of our Life Science team ensure we are at the forefront of technology in holistic wellbeing solutions and offer science-based supplements.
SUSTAINABILITY & QUALITY
We are – Respectful
The best ingredients are sourced from around the globe to sustain your wellbeing while being considerate of our environmental impact in supply. We ensure a dialogue to maintain standards with our partners in sharing our values and upholding our principles of sustainability.
THE COMPOUND EXPLOSION
The Holistic Complex can be intensified and targeted to a specific pillar in Clinique La Prairie's functional supplements by activating one specific active ingredient in a higher dosage called "Compound Explosion". Formulated by our Life Science Experts, each explosion aims at amplified benefits, by boosting the effects and optimizing contextual results in relation to the individual pillar of holistic wellness.
THE COMPLEX WORKS IN SYNERGY WITH SELECTED FOUNDATION AND ADVANCE INGREDIENTS to build the strong performance of each formula's purpose: immunity, regeneration, essential nutrients and vitamins, sleep-wake cycle, detox, and energy boost.