Our Holistic Complex has a proven protective role on telomere shortening and healthy aging

"Holistic Health products are about thoroughly science-backed solutions. A lifescience study about the CLP Holistic Complex (that is at the core of each Holistic Health supplement) shows that it has beneficial effects by decreasing the rate of telomere shortening and preserving telomere length under normal conditions, thus contributing to longevity."
What is a telomere?
Our genes are organized inside the cell nucleus as DNA molecules called chromosomes. Telomeres are short repetitive sequences of DNA at the end of each human chromosome, forming a protective cap. Telomeres play vital roles in multiple cellular processes because they protect chromosomes from end-to-end fusions and chromosomal instability.
What happens as we age?
As cell division occurs, telomeres become successively shorter until chromosomes reach a critical length and can no longer replicate, which means that cells can no longer divide and they become senescent or die. Lack of cell repair and accumulation of senescent cells can deteriorate an organ or tissue.
SINCE SHORTER TELOMERES HAVE BEEN IMPLICATED IN DNA INSTABILITY, CHRONIC DISEASES, AND ONCOGENESIS, THE RATE OF TELOMERE SHORTENING IS CRITICAL TO IMPROVING HEALTH AND SLOWING AGING.
Telomere length has been recognized as one of the best biomarkers of aging
Considerable efforts have been made over the past few decades to develop measures of aging impact which are reliable, precise, and robust. An accelerated telomere attrition rate is also a common feature of age-related diseases.
Evidence shows that reduction in telomere length is associated with failure of cell division and senescence of normal cells and that oxidative stress and inflammation can contribute to a greater shortening of telomeres.
Oxidative stress is a condition that occurs when there is an excess of free radicals produced during metabolic processes in the body's cells. The imbalance between free radicals and antioxidants plays a significant role in aging, causing changes in proteins, lipids, and DNA.
One major consequence of oxidative stress is DNA damage, which includes telomere shortening and modification of the structure of DNA, altering its coding properties, and interfering with cell processes.
Oxidative stress can be triggered by factors such as diet, lifestyle, pollution, and radiation, as well as by the body's natural immune response, causing inflammation that disappears after the immune system repairs an injury or fights off infection. Chronic inflammation associated with aging and conditions like autoimmune diseases, cancer, diabetes, hepatitis, inflammatory bowel disease, and others, or long-term exposure to irritants such as industrial chemicals or polluted air, can accelerate telomere loss and cause cellular senescence. Over time, chronic inflammation can trigger the immune system to attack healthy tissue and organs and increase your risk of age-related conditions.
About the in-vitro expansion study conducted by Life Length Laboratories to investigate the protective effect of the CLP Holistic complex on telomeres.
Study design: Telomere-length measurement using telomere analysis technology
The CLP Holistic Complex was tested on human cells (primary fibroblasts) to investigate its effect on telomere length. In this eight-week-long expansion study, the laboratory analyzed how different doses of the complex simulate the aging process that cells undergo for more extended periods. Telomere length was measured using Life Length's proprietary CLIA (#99D2112462), and ISO 15189 accredited Telomere Analysis Technology (TAT®).
Study Results:
THE TELOMERE STUDY SHOWED THAT THE TELOMERE SHORTENING ASSOCIATED WITH CELL AGING WAS MUCH SLOWER WITH THE CLP HOLISTIC COMPLEX SUPPLEMENTATION WHEN COMPARED TO THE UNTREATED (CONTROL) GROUP.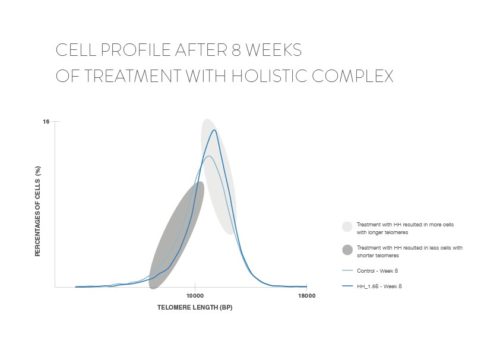 After eight weeks of expansion, the intake of Holistic Health supplements resulted in fewer cells with short telomeres and more cells with long telomeres.
Conclusion
The study demonstrated that the CLP Holistic Complex featured in all Holistic Health supplements has a protective effect on telomeres, decreasing telomere-shortening rate, which results in cells reaching senescence later and thus delaying the aging process.
THE DATA SUPPORT A POTENTIAL ROLE FOR THE HOLISTIC HEALTH SUPPLEMENTS AS PART OF A HEALTHY DIET IN MITIGATING THE NEGATIVE EFFECTS OF AGING MECHANISMS, CONTRIBUTING TO LONGEVITY.
More about the CLP Holistic Complex
An unparalleled core complex that targets deeply at a cellular level is the breakthrough innovation at the heart of each CLP Holistic Health supplements.
Building on 90 years of research and clinical practice, Clinique La Prairie lifescience experts have identified 5 fundamental pillars of balanced health – immunity, neuromodulation (stress management), anti-inflammation, rejuvenation and cellular longevity – connecting the most powerful bioactive compounds to target them in a proprietary formula.
The result is a fusion of 5 potent ingredients balanced with targeted active naturals that connect together for your wellbeing and longevity.
You will find CLP Holistic Complex across all our Holistic Health Supplements. We recommend to start with an AGE-DEY and add the rest according to your needs.